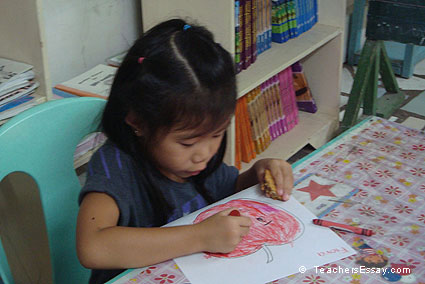 Art is making of images. It enables us to see life as art and that is its value. What we see depends on what we know. The more perspective we bring to a particular work, the more we can see it as representing this or that. In Art, we can afford to say "I know what I like" only if we first know what we are seeing.
Filipinos are world-class painters. We are proud to have Juan Luna, who was famous for his "Spoliarium". We also had Damian Domingo, Felix Hidalgo, Fernando Amorsolo, Victor Edades, and Maestro Vicente Manansala. All of them were artistically gifted and well-known for their outstanding masterpieces.
Art lets children express their thoughts and emotions in a creative and productive manner. Most teachers are aware of the importance of art in the overall development of our pupils but not all of us know how to teach art to our pupils. There is always the pitfall of not providing enough stimulation or pushing too hard. We sometimes forget to integrate art lessons if there are chances.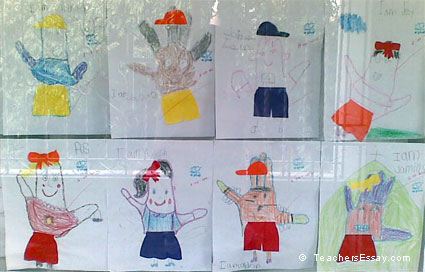 There is no better or more crucial time for our pupils to learn about art than while they are still young. The following are some suggestions to guide teachers who wish to teach Art effectively.
During Art lessons, advise your pupils to bring old newspapers to cover their chairs and tables. They should maintain the cleanliness of their classroom while they are working and for the next subject matter.
As teachers, we should put more emphasis on the creative process rather than the results or the outputs of our children. Pupils will usually use their Art materials in a way that is unique and meaningful to them. Let them come up with their own masterpiece. If they get stuck, ask them a question about their favorite color or their favorite cartoon characters, or their most memorable experience. These, in turn , can be the subject of their Art activities.
Make it a habit to save some of your pupil's artwork. This lets them know that you value their work. You can display them on your bulletin board. Put the date of the work at the back so you can trace their progress.
Pay attention to the way you respond to your pupil's artwork because that will be the key to your pupil's artistic development. Try to really focus on their works instead of merely saying "Good" or "Very Good". Take note of the colors, shapes, and form they used and try to discuss these with your pupils.
Avoid giving negative comments that could discourage the pupils. Always put emphasis on the positive side. Stay focused on what is on the paper and not on what you think it should be. Try not to make demands regarding their work and do not expect too much from them.
If you notice that one of your pupils is really artistic, then you might encourage him as well and ask his parents to enroll him in special Art classes. This will help him develop his skills and adopt new trends.
Latest posts by Teacher Rosalie Tolentino