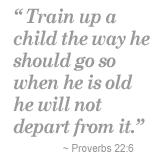 Proverbs 22:6 says, "Train up a child the way he should go so when he is old he will not depart from it." This verse pointed out not only the parent's role in molding a child but it also connotes challenge to teachers by guiding and bringing out the best in every human being.
Since children have varied needs, both the parents and teachers must guide them differently. When it comes to discipline which is one important way of training a child, it must be done with love specially when we are pointing out their mistakes and if we need to correct their wrong actions, but we should not make them feel that their mistake appears like a terrible sin. They need to understand the difference between a forgivable mistake and a punishable wrong.
I think, the most effective way of instilling good moral foundation among our children is to encourage them to attend church services regularly so they can hear sermons and Word of God that will help them develop love and fear of the God.
Latest posts by Teacher Alma V. Signio